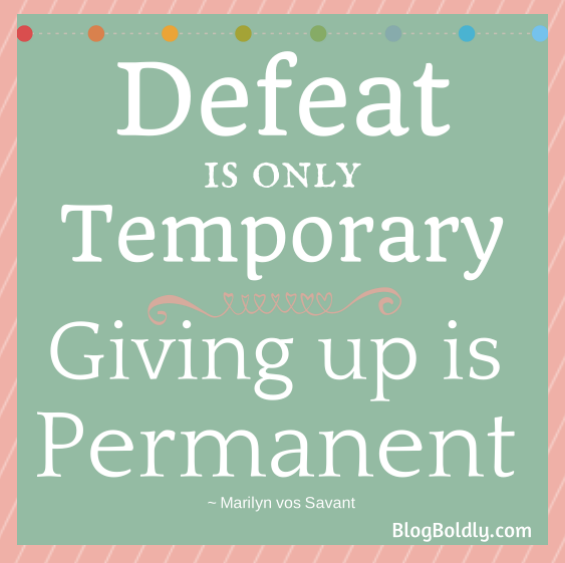 Defeat is only temporary, giving up is permanent.
~ Marilyn vos Savant
It's easy to feel discouraged while working on your Internet business.
One of the cool things about having an Internet biz, is that you don't have to answer to anyone. You can merrily go about working at your own pace, trying new things, putting your heart and soul into your dream.
But what happens if success doesn't come as quickly as you'd hoped?
That's when it's tempting to think it's not working. Maybe you should give up.
Please don't.
I can tell you that I've only had one site (and I've been online since 2005) that took off exponentially and started generating income in just a few months. Everything else has taken countless hours, stamina, and tears. Just ask my husband! 🙂
But it's worth it… It's SO worth it.
If you feel defeated, I want you to do something for me (and you.)
Take Action Step
Reach out to someone you know.. It can be someone you've talked to on social media or at an event or in a forum. Ask them if they'd like to partner up with you on a trial basis. Maybe meetup once a week for a month to see how y'all like it. You can bounce ideas off each other, hold each other accountable.. whatever makes sense.
BTW, If the 1st person you ask says no, ask someone else until you find your person.
No pity parties allowed. This is where the two of you will come together in support of your success.
Try it.
Just don't give up. Promise me. ~ darlene
---