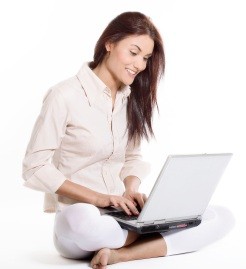 A profitable Blog.   You want a successful online business, but where do you begin?
Maybe you're casually writing on your Blog at whim and sharing pictures when the mood strikes.
Why,  I ask.  If you're taking the time to create amazing content and share your story, why not make the extra effort to also create income?
If you want to make money but believe all you have to do is blog and visitors will come, then eventually you'll get disappointed and give up when people don't show up to admire all your hard work.
Look.. you CAN have a successful online biz.  Your Blog can make you money!
You just have to be strategic about it and have a plan.  Let's start with:
First 3 Steps

to a Profitable Blog
Who is your audience; people visiting your site?
What do you offer; in terms of content and products?
Why should people visit your Blog; what sets you apart?
You do not want to skip these steps. They are the core of your biz.
1. Determine your ideal visitor so that when you're writing, you know exactly who you're writing to. Also, when you spread your message, you'll go to where these particular people hang out.
2. Decide what your Blog is about. Resumes, Recipes, Travel, Marriage? Do not be all over the place with this. Focus on a specific topic so when people think about visiting Austin TX (for example) they think of you and your Blog!
You want to blog about healthy eating? Fine, but drill down to a specific segment like healthy eating while in college or healthy eating on a fixed income.  You want to separate yourself and your Blog away from the pack.. and when people think of your topic, they immediately think of your Blog!
In terms of what products you'll sell, you probably don't know what you'll offer or how you'll make money yet, and that's OK!  But as you think of what interests your peeps, start a list of ideas. For a travel Blog: airline tickets, hotels, visitor's guide.
3. Why is YOUR Blog more interesting, fun, informative, etc. than other Blogs with similar topics?  What makes you different? There is no one else with your unique voice. Don't be afraid to be yourself.
Blog boldly. I'm serious about this!  Your uniqueness is what's going to make your Blog stand out in the crowd of sameness.
Recommended reading (my affiliate link takes you directly to Amazon)
The Millionaire Messenger: Make a Difference and a Fortune Sharing Your Advice
To your blogging success! ~darlene 🙂
Get in the loop with us. Find out about it here.