Being that this is the first post of BlogBoldly's, my original plan was to write an epic post giving extensive detail to help you in your first thirty days in business.
That post is now on the back burner because I feel the four key elements I'm outlining today are critical to a successful blog.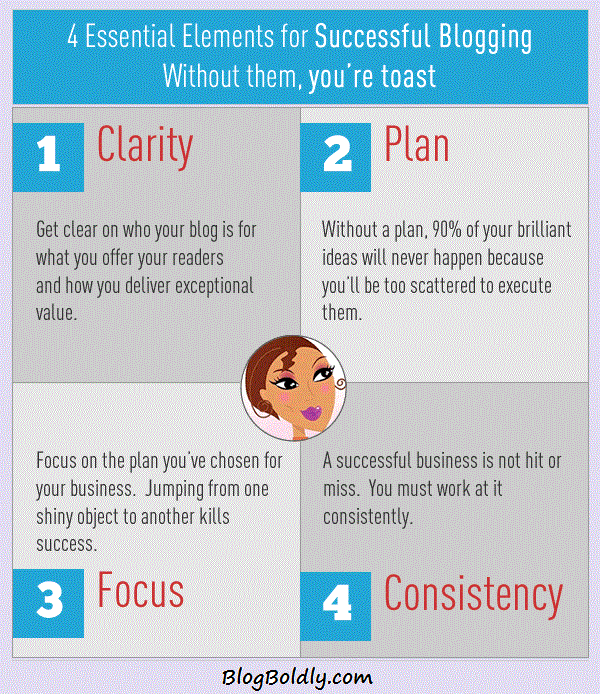 1) Clarity
You get less than 7 seconds to capture your visitors attention.
After that they are off to another website.
You cannot imagine how many bloggers fail to capture their visitors attention.   Why? Because they never take the time to get clear on their topic and what they offer their readers. So their blog becomes a mishmash of random ideas. How could that possibly entice visitors?
Luckily, you are not like the masses. You are willing to do what it takes to set yourself apart and become one of the winning blogs.
Pull out a piece of paper.. yep, forget the computer for now.. get paper and pen.
Write down:
Who is my website for?
What does my blog do for them?
How can I help solve a problem for them that's different from the other blogs?
You must get clear on who your blog is for and what the heck it's about..
What problem(s) do you solve for your readers? Why should they frequent your site over the competition?
If you don't know the answer to these questions, trust me, your reader won't either.. and they'll leave.
Examples of successful blogs with clarity:
theDailyLove – Receive daily "love' and be accepted for who you are.
RawFoodsWitch – Take the mystery out of raw food eating + have fun.
MikeFromMaine – Mike interviews successful online entrepreneurs
PaidtoExist – Stop following the norm and blaze your own trails.
Next:
Write one or two sentences that summarizes the clarity of your blog.
Example using BlogBoldly:
"Turn your hobby, passion, knowledge into a profitable blog. I'll show you how!"
Another example from MarniePehrson:
"I help you gain clarity, set aligned intentions, and shift any beliefs that aren't working for you, so you can take focused action toward your desired results."

2) Plan
You have millions of ideas in your head..
You wake up in the morning thinking about what you'll do in your business.. how it will grow.  But until you get it all into a plan of action, 90% of it will never happen.  Sad but true.
You know the saying, right?
"People don't plan to fail. They simply fail to plan."

3) Focus
I could write a book just on focus. Oh wait. My friend David Essel has!
The Internet is a goldmine of diversions.  Do you ever sit at your computer, and two hours later wonder what you've just spent your time on?  Yeah, me too.
But I'd actually like to address a different kind of focus.
I'm more concerned with the focus of staying the course you've chosen for your business.  Deviating from this focus will kill your blogging success more than anything else.  Jumping from one shiny new object to another, never sticking with a plan long enough for success is a death sentence.
Here's the truth.
There are more ways to make money online than we can count.  There are tons of different marketing strategies.  But we cannot do them all.
That's why it's essential to focus on YOUR plan and not get sidetracked.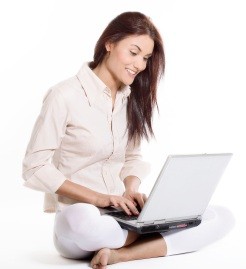 4) Consistency
I have to fight bad habits just like everyone.
But I will say this:  The ability to consistently work my business plan is probably the #1 deciding factor to my online success.
It may take me an hour to complete a ten minute task (because I'm off on bunny trails) but if I have a plan to interact on social media for 15 minutes each day,  or get a blog post done every Wednesday, or whatever.. I do get it accomplished.
I didn't realize until I started working with other people, that many bloggers do not work on their business consistently.
A successful business is not hit or miss. You must work at it consistently. Even if you commit to one hour a day completing specific tasks, you will get ahead and your business will progress.
Schedule what you know you can complete, and then add to it as you establish good working habits.
Your dream.. your blog, a successful blog.. it's worth it, right?