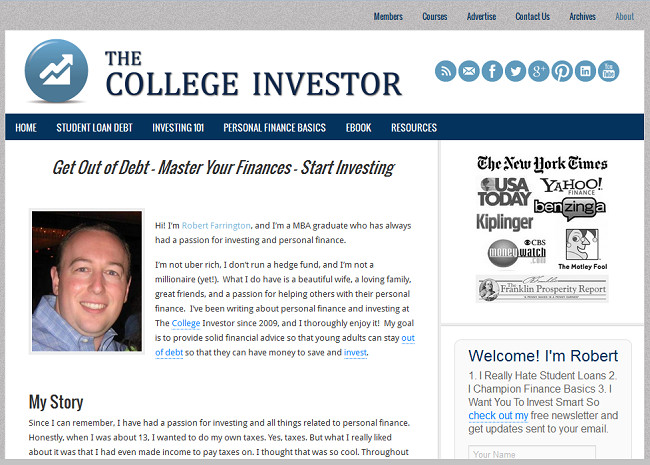 TheCollegeInvestor.com
Tell us about TheCollegeInvestor.com
My blog is dedicated to helping young adults and college students get out of student loan debt and get starting investing. We cover a range of personal finance, investing, and getting out of student loan debt topics.
When did you start your blog?
September 2009
How many hours a week do you spend on your site?
I spend about 10 hours per week on my site, mostly writing and following up on comments and content
Average monthly profit?
$3,000
Average monthly visitors?
60,000
How did/do you grow your visitors?
I think the biggest thing that helped grow my visitors was consistency and joining a network of like-minded bloggers (the Yakezie Network). By getting to know other personal finance bloggers, I was able to get help and find ideas, as well as mutually share each others content.
Also, I leverage guest posting strategies at least quarterly (by writing epic content for others), and I leverage Social Media (Twitter, Facebook, LinkedIn).
How long did it take to have your 1st $1000. month?
My first $1,000 month was May 2011, over a year and a half after I started my website.
How do you monetize your blog?
I monetize my blog with advertising, but just recently launched a course for investing – the Investing 101 Course.
Share one thing you would do differently,
If I did something differently, it would be to have a launch strategy. I recently used a launch strategy for a website that I recently launched, and I had over 1,000 visitors the first day, and still consistently get 300+ daily visitors, even though the site is only 3 months old.
By launch strategy, I mean getting to know other bloggers, setup a guest posting campaign, build social media accounts before your launch, and write epic, shareable content at the start (and always!).
Posted 2013
If your blog makes $1000. (or more) per month, maybe YOU can be a Grand Blogger! Details Here