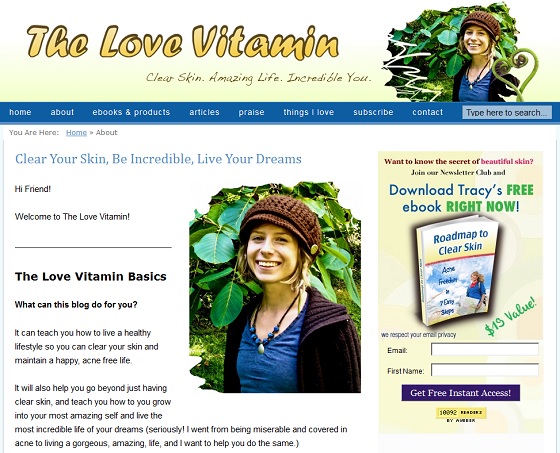 TheLoveVitamin.com
Tell us about TheLoveVitamin.com.
My blog helps people to treat acne and live happier lives with a holistic, healthy approach
When did you start your blog?
I started my blog in January, 2011
How many hours a week do you spend on your site?
Hours per week that I work on my blog varies wildly. In the beginning to set it up and defeat the learning curve it was very full time hours.
As time goes on, I can maintain it and keep it going at a minimum of probably 10 – 15 hours a week, but need to spend much more time if I want grow the business and my income by releasing new products, etc. In the end, I don't really keep track of my exact hours spent because it's fun and rewarding and never feels like hard work.
Average monthly profit?
It's risen this year (in The Love Vitamin's third year) to around $4500 to $5000 per month profit (which feels incredible and amazing to me and I feel so so blessed and grateful!!)
Average monthly visitors?
Average monthly visitors – according to Google Analytics, I've had just over 300,000 visits in the last month. 240,000 unique visitors.
How did/do you grow your visitors?
I would say youtube would be the main avenue that I have grown my following. I consistently make video blogs along with written articles. And word of mouth, I suppose (at the end of my articles, I ask that my readers share the article on social media it if they found it interesting and helpful). I also saw a huge leap in traffic/leap in income after participating in a few ebook bundle sales this year with other bloggers which exposed me to many new people and boosted my google rankings. I actually don't do a whole lot of traffic building activities on a consistent basis, to be honest.
How long did it take to have your 1st $1000. month?
I made practically nothing in the first 6 months of blogging. When I released my first ebook about 7 months in, that's when my income rose to somewhere in the $1000 to $2000 a month range
How do you monetize your blog?
Currently about 75% of my income comes from selling ebooks and digital products that I wrote directly from my blog. Around 25% of my income comes from affiliates sales, the vast majority being from the Amazon Affiliate program (which didn't make me a whole lot in the first two years, but lately I've been making over $1500 a month from that alone! Crazy.)
Share one thing you would do differently,
or one piece of advice if you were starting your blog today.
One thing I would do differently – hmm.. maybe just release an ebook earlier. I was nervous about it and procrastinated releasing it, but my ebooks have definitely been my most important income stream. Don't worry – people won't hate you for asking money for a valuable resource, especially if you have already given them tons of value on your blog for free.
Posted 2013
If your blog makes $1000. (or more) per month, maybe YOU can be a Grand Blogger! Details Here