Let's talk website structure. When visitors first land on your site.. before they read your extraordinary content, they make judgements about your site from the visuals, your colors, the structure of your site, clutter or minimalist, the images you have..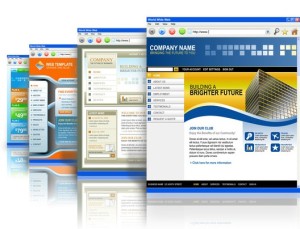 Your visitors absorb this information in seconds, and determine if they want to stay or not.
Seven seconds to capture their attention.  That's all you've got.
Many bloggers believe all they need is "epic" content.
Yes, while it's true that your awesome content will get people talking about it and sharing with their friends.. they first have to READ it themselves!
How You Want Your Website Structure
There are two parts to this.
1) How to get your visitors to stay and read your Blog.
2) How to convert your visitors into raving fans who love to buy from you.
Website Structure – Entice Visitors to Stay

[note color="#FFFFE0″]How to get your visitors to stay.[/note]
1) Colors set the tone of your site
I realized when I picked a pinky salmon as one of my colors, that guys probably wouldn't get a warm, fuzzy feeling from my site.  but that's OK because women are my audience.  But if men are your peeps, pink won't do.
DO: Think about your target audience and plan your colors accordingly.
DON'T: Don't overdo your colors.  Two or three base colors with an accent is plenty and doesn't look too busy.
DO: Use your colors consistently!  Notice at BlogBoldly all headlines are black or salmon while all links are blue.  Why?  So readers don't have to wonder what's going on.. When they see blue text, they know it's a link.
DON'T: Please, please do NOT do your website with a dark color background and white text!!  It looks dated and is hard to read.
2) Fonts create the mood
You wouldn't use  a fun, playful font for investment bankers, right?  Again, think about your audience.
DO: Use fonts appropriate for your target readers.
DON'T: Don't use a tiny font that's hard to read.  14 pixels or more is good.
DON'T: Just like with colors, don't use too many different font types. At BlogBoldly I pretty much use one font for the headlines.. and another for everything else.  Even when I have graphics made, I typically supply the fonts from my site.
3) Get rid of the clutter!
Derek Halpern quickly became famous in part for his article on the "less is more" concept that promotes less clutter on your site for max conversions.  Test results show that when people are given too many choices, they usually will not choose anything.
[highlight bg="#ccccff" color="#000000″]#1 Mistake bloggers tend to make with website structure is loading up their site with so much junk, their readers rarely make a decision to buy.[/highlight]
DO: Clean up your website, especially your sidebar.
Here's the most you need in your sidebar:
Email Optin (if you don't have one across the top) & even if you do.
Testimonials
Links to important pages (but don't overdo it) 3-5 is enough
Popular Posts – people like to read what they perceive others to like, hence the word "popular"
Social Proof – if you have a lot of Facebook or Twitter fans, you might want to show it off.  Anything under a 1000, don't.
DON'T: Too many product selections will only confuse your audience.  If you offer one solution to one problem, they only have to decide if they want it.. but if you have three products for one problem, they'll probably have to "think about it" and we all know how that turns out.

4)

Mobile Responsive Website Structure
2012 marked the year that mobile devices surpassed PCs as the way people accessed the Internet.  And this trend continues to grow.  That's why you hear me preach "go mobile" with your WordPress theme.
DO: Select a WordPress theme that is "mobile responsive" so that it looks amazing (and is easy to navigate) on all mobile devices.  We use Studiopress at BlogBoldly and they have large selection of responsive themes..
Website Structure – Conversions
[note color="#FFFFE0″]How to convert your visitors into raving fans who love to buy from you.[/note]
You should have a good idea by now of how to setup your website structure to keep your readers around.  But how do you turn them into loyal fans and get them to buy?
Never lose sight of the fact that your Blog is a business.. preferably a profitable one!!
Every post you write, you should have an end result in mind.  Do you want your reader to optin to your email list?  Or do you want them to buy?
You must show visitors what to do!
This is called CTA – Call to Action.
DO: If you want readers to optin to your email list,  always have optin at end of post PLUS if it's a long post, sprinkle a simple optin form once or twice in the content as seen in this one.
DON'T: If the purpose of your post is to buy, don't insert optin forms in the content.
DO: If you want your readers to purchase, sprinkle the BUY button throughout the post with a more prominent one at the end.
DON'T: Give too many buying choices!  I've said this before but it warrants saying again.. Choices can confuse. If you offer two selections for one problem, your reader first has to decide if their problem is big enough to make a purchase and then they get bogged down trying to figure out which solution to buy!  Not good.
Website Structure Wrap-up
Now it's time to go to your site and apply these tips!
If you like this post, be sure and sign up for FREE 20-Days to Blog Profits Course!