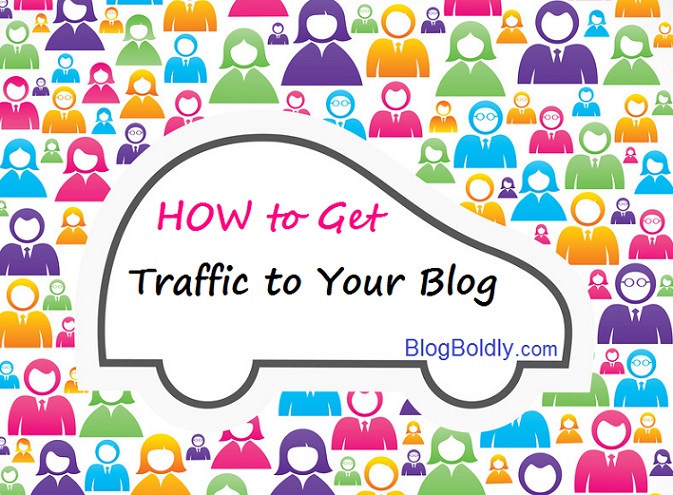 How to Get Traffic to Your Website is a biggie because it doesn't matter how fabulous your website/blog is.. if you don't know how to get traffic to it, you won't have a business. A website without traffic (a.k.a. visitors) is like a store without customers. No people, no sales. How depressing.
I remember my first.. very expensive website.. that I agonized over for close to a year. When it was finally ready, I was so excited. I had such a great idea. It was a beautiful website. My product was killer. I just knew it would be a huge success. Crickets. Yeah, nothing but crickets. Because I didn't know the first thing about getting visitors.
Fast forward to today. Now I consider how to get traffic.. specifically how to get targeted website traffic to a new website/blog before I even launch.
How to Get Traffic to Your Website
Four Step Plan
This is a Four Step Plan to get not only traffic, but targeted website traffic to your site.  It's what I implement with my personal sites.
Steps 1,2,3 occur as I'm putting together the site.. and Step 4 is the ninja traffic tool I use once my blog is lookin' pretty good.  Notice I didn't say perfect. Don't wait for perfect. You will waste valuable time that you could be building your audience and even making sales.

Blog Commenting/ Forum Posting – Create a folder and start collecting blogs and forums that you want to comment on.
Pick blogs and forums relevant to your niche. Also collect blogs/forums where your audience hangs out.
Look for blogs and forums that have good interaction with comments and social media. You're looking for an active community who want what you have to offer.
Write a comment worth reading people!! None of this "Good post" or other lame comment. You want readers so intrigued with your comment that they're dying to go over to your site to find out more about you.
Get a Gravatar! People want to see who you are. Go to  en.gravatar.com and upload a picture so when you comment on blogs, it'll show up.
Fill out forum profile and add nice picture of yourself (not your kid, dog, flower, etc)
Bonus Tips for Blogs to Comment On
Find blogs that offer CommentLuv. This allows a link to your latest post.
Make a schedule of days/times your fav blogger posts and get your comment in early! You'll get many more people coming to your site if you're high on the list, rather than buried.

Social Media
– Don't try and be everywhere! You'll get overwhelmed and your online business will stop being fun, fast. If it's not fun, what's the point? Select one or two social media platforms and become known there. I love Twitter and yet spend just a
few minutes a day
with it.
Use the 80/20 rule. Eighty percent of the time, talk and engage. Only sell yourself or your website the other twenty percent. If you will do this, people will actually care what you have to say because you're not being pushy. Which social media is best for your niche? The one you like. Maybe I "should" be on Facebook.. but I don't like it. And I've never had trouble getting traffic to my sites, even without Facebook.

SEO – Oh how we crave that Google love to get website traffic! It typically takes a little while but organic traffic is a beautiful thing. So make sure you know at least the basics, and apply.  Here's a Basic SEO Guide for how to get traffic to your website via the search engines.

 Guest Posting – You want to apply the first three traffic strategies from the get go. But once your website is lookin' good, bring out the big guns with guest posting to get traffic to your website.

Why guest posting to get traffic to your website? Look at the graph above. I did four guest posts during months of Feb, March, April. I rest my case. 🙂 Guest posting (sometimes called guest blogging) is when you write and publish an article on someone else's website.
Aside from increased traffic, you get backlinks for SEO, targeted traffic, and an opportunity to build new relationships as an authority in your industry. Be selective in which blogs you offer your posts to. You are going to give away some of your best stuff, so make sure you find an appropriate "home" beneficial to your business.

Finding Blogs to Guest Post:
Look for blogs that have audiences who want what you have to offer.
Look for active communities. Good commenting, social media engagement, etc.
An active blog should be PR 3+ but check at PRchecker.info. This helps your SEO.
Search keywords in your industry + "guest posting" or "write for us" or "guest blogging."
Once you find a blog with guest blogging instructions, follow the instructions exactly! Bloggers, especially the big ones, get tons of guest post inquiries.. Simply following their guidelines will separate you from the amateurs.
You will get to write a short BIO that's placed either at the end or beginning of your guest post.  You get one to two links back to your site. Make it count! Write a captivating BIO with a Call to Action (CTA) to specific pages to your site. One might be an optin page and the other a highly converting page.
Final Words About How to Get Traffic
None of these tips matter if you don't implement them. Traffic to your site is the same as customers walking into a store. Without them, you don't have a business, so do it!
---