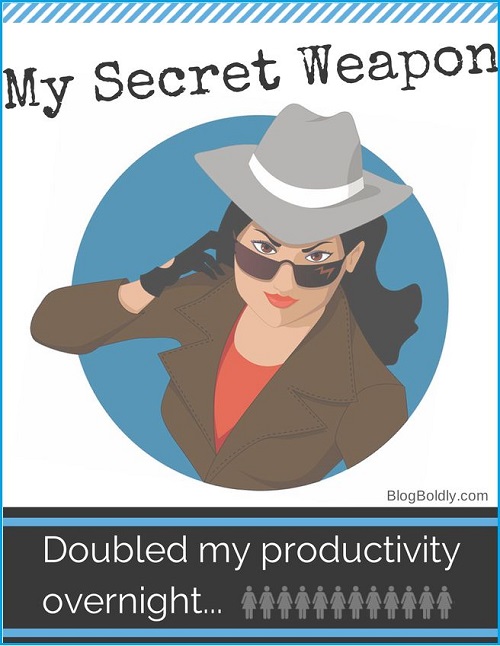 My secret weapon is one of the most misunderstood aspects of growing a business.
Why? Because…
Most people don't know how to use it.
There's a misconception about cost.
Yet, it can give you back your time AND explode your business!
Secret Weapon Facts:
It's actually simple to use.
It can be as cheap as a cup of coffee.
It kills overwhelm and stress.
It can double your productivity overnight.
It may actually make you more money.
It makes you & your blog look like a rockstar.
It gives you more free time (i.e freedom!)
What is it?  Help, helper, staff, virtual assistant, life-saver, outsourcing. That's what it is.
But wait, you say.
Paying for help is only for companies, or people with deep pockets, right? Certainly not you! Especially if you're just starting out. No, that's actually not true.
Today, you can easily hire experts to help you with your business.. and for the mere cost of a cup of coffee. Literally.

The links in this post are referral or affiliate links which means I get a teensy, weensy fee if you decide to use my awesome secret weapon. (You pay the same no matter what.) So, thank you!
Secret Weapon Tasks – $5

Website/Blog Help
Web design, Coding, WordPress Installation, WordPress Support, Website Management, Website Troubleshooting, WordPress Themes, Technical Support, WordPress Plugins Installed.
Email – Auto-responders
Set-up Email Campaign, Manage Email Campaign, Set-up Auto-responder Campaign, Answer or Filter Emails.
Graphics & Design
Logo Design, Illustration, Ebook & Kindle Covers, Photography & Photoshopping, Flyers & Brochures, Business Cards, Banners & Headers, Landing & Squeeze Pages, PowerPoint Presentations, Pinterest-Facebook-Instagram Graphics, Facebook Ads Graphics, Twitter-YouTube-Facebook Headers.
Social Media
Facebook-Twitter-Instagram-Pinterst-Youtube Management, Social Media Organization, Advice
Video
Video Production, Spokesperson, Animation, Video Editing, Voiceovers, White Board Drawing, Slideshows
More Tasks
Article & PR Submission, Blog Mentions, Domain Research, Keyword Research, SEO, Bookmarking, Data Entry
Secret Weapon Steps

First you sign up for free.
1) Click on a category or do a search for the task you want
2) Providers are in order of "Recommended." I change the filter to "High Rating."
3) Read descriptions and click to learn more about a particular service provider
4) Check feedback, cancellation ratio (if any) and look at work samples.
5) If you need to ask questions, you can contact the service provider first.
6) Pay your $5. bucks and order service
Secret Weapon Tips
I've been using my Secret Weapon since the company first opened it doors. Here are tips I've learned along the way.
Contact the person before placing an order.
For a brand new task, I might contact two or three providers with exact instructions of what I want. This way there's rarely a misunderstanding on expectations because they know precisely what I want. Plus, if it happens to be a very detailed or complex task, they can tell me before I order, if they want more than $5.
Some tasks are more than $5.
Examples: Typically you can get a few easy WordPress fixes done for $5. but a looong list will cost more. You might find a video person who'll do a basic video for $5 but maybe you want it more fancy pants. I've paid as little as $5. for three videos..all the way to $25. for one. But let me tell you, that $25. video would have cost hundreds of dollars elsewhere. Or you can get x amount of words transcribed for $5. bucks but as the document gets longer, you pay more.
Ask how their schedule looks.
On each service offered, the providers gives an estimated time they commit to having the work completed. But I always ask because they might say two or three days when their estimated time is a week. Often they charge for a rush order, but if you ask up front, they'll usually just give it to you at no extra charge. It may not be as short as the rush order time, but often it'll be less than their quoted time.
Notice their cancellation rate.
If few customers cancel, then a cancellation rate won't even show up, but if it's high, it'll say 17% or whatever, The reason you pay attention to this is because the providers will do almost anything to avoid a bad rating (like giving you back your money.) So, they may have a 97% approval rating, but if their cancellation rate is high, you know a lot of unhappy customers got refunds rather than leave a bad rating.
If the task is visual, look at recent work in the comment section.
When you rate the task, you're given an opportunity to also show the work. As a potential customer, you can look thru work already completed. Every now and again there are not any samples. I think the provider has the option of offering the customer to show them. If you want a Logo and you can't see any Logos completed, skip to the next provider.
Leave a tip.
If they've done an exceptional job or gone way above the call of duty, you might consider giving an extra $5. as a thank you. It's a nice thing to do plus it builds loyalty. I have providers I've worked with who I tip occasionally. When I need something fast, they'll often move me to the front of the line.
Don't be afraid to insist on a refund.
As generous as I am with work well done and delivered on time.. I have little tolerance for a crummy job. If they don't deliver what we agreed upon or if their work looks nothing like their samples, I get a refund. Of course I do not abuse this!  And I've occasionally let it slide if they spent a lot of time, or there's some other extenuating circumstance.
Rate their service.
Their business depends on those ratings so if you think they did a good job, take a minute and say so!  I can have four separate tasks with one person in one week and I'll still rate all four gigs. Again, this builds loyalty and they'll remember you.
Now that you have this awesome resource, it's silly for you to spend your valuable time on mundane or complicated tasks when it is so easy (and cheap) to find people to help you.
As you go along, hiring different providers and finding your favorite ones, you'll establish your own team or "staff."
I'm telling ya.. This is a game-changer for your business. 🙂
The links in this post are referral or affiliate links which means I get a teensy, weensy fee if you decide to use my awesome secret weapon.  So, thank you ahead of time.